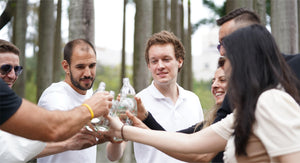 JOIEEM is a cutting-edge electric bicycle technology company that provides intelligent riding experiences for new urban generations. Our high standards in research, development, production, sales, and after-sales service allow cycling enthusiasts to focus on enjoying their rides.
With 10+ years of experience in electric bicycles and smart hardware, JOIEEM is a new-generation e-bike brand committed to providing innovative products. Our unique design and market expertise enable us to offer an intelligent cycling lifestyle for new urban customers, allowing cycling enthusiasts to enjoy the benefits of a healthier, smarter life.
In fact, we all know that everyone struggles with commuting to congested and clogged driveways.
expensive travel costs.
Boring, boring public transportation.
the loss of precious time.
....
As we can't complain about these status quo, so JOIEEM believes that we can and have been able to bring some changes for all people.
JOIEEM Ebike-X is suitable for everyone's commute, riding it to work or school, making commuting easy and fun, and contributing to a low-carbon environmental protection travel. Join the joieem family, start your life in a healthy way, and feel the joy of riding together!
We have our own warehouses and factories in various locations across the United States and Europe and the JOIEEM vertically integrated supply chain greatly improves our capacity to manufacture and store our Ebikes. Regardless of any region or destinations, we are dedicated to delivering superior quality goods and services to our customers.We are confident in our ability to offer an accessible and environmentally sustainable transportation solution to more people.

joieem
Green Ride
JOIEEM has consistently held a deep passion for global environmental protection and sustainability.
Our commitment lies in minimizing carbon emissions, promoting eco-friendly travel,
and nurturing the belief that we can create a brighter future for our planet.